Visitors to Hong Kong will be enraptured by the traditions of East and West smashing against each other in this city of skyscrapers. Ancient Chinese culture remains below as tall modern buildings rise overhead.
Just as this potent blend of cultures will intoxicate you, so will Hong Kong's thriving scene for astute drinkers. Here are some places and tips to ensure that your two days in Hong Kong include memorable drinks and sights.
If a hip hotel is an important element of your traveling experience, then stay at one of the Ovolo brand's hotels in Hong Kong during your stay. Like most hotels in Hong Kong, Ovolo's basic rooms are tiny, but their rooms are packed with all the amenities to spoil travelers, including smart TVs, a free mini-bar, and the types of fancy bath soaps that guests actually want to use.
Plus, the hotels serve up complimentary drinks during happy hour and provides a free breakfast with toast, croissants and fruit.
Location: Various
Phone: head office +852 2165 1000
Website |Twitter | Facebook | Instagram
Afternoons in Hong Kong can be grueling. Just a short walk outside and you'll be dripping sweat in corners of your body that you never knew existed. Luckily, this Italian spot with a self-proclaimed "NYC Meatpacking district vibe" is open during the afternoons serving up cool refreshments and small plates.
In addition to an artisanal cocktail menu, enjoy 2 for 1 specials on house wine, prosecco and Peroni from 2:30 p.m. to 6 p.m.
Location: 208 Hollywood Road, Sheung Wan, Hong Kong
Phone: +852 2549 0208
Website | Twitter | Facebook | Instagram
This funky steakhouse takes its beef very seriously. Just note the dry aging room as you walk upstairs into this restaurant. While you mull over steak options from Wagyu sirloin to Black Angus rib eye, make sure to order a cocktail. The Pork Chop and Applesauce is garnished with a smoldering cinnamon stick.
Location: 108 Hollywood Rd, Sheung Wan, Hong Kong
Phone: +852 2613 9286
Website | Twitter | Facebook | Instagram
This casual restaurant serves up the best of modern British cuisine.
Enjoy your meal with a drink from the bar's impressive list of artisanal cocktails. Or cool down with classic British cocktails during London Calling happy hour from 5 p.m. to 7 p.m. Pimm's Cup, anyone?
Location: 35 Aberdeen Street, Central, Hong Kong
Phone: +852 2866 0300
Website | Twitter | Facebook | Instagram
This top-notch bar is a must-visit during your trip. Quinary was named one of the World's Top 50 bars in 2014, according to Drinks International. Take a look around the bar, with its chemistry lab equipment, and it's not hard to believe.
Quinary focuses on using molecular mixology to deliver the perfect combinations of flavors, aromas, and textures to your cocktail. Relax into the comfy, chartreuse leather seats and order the Earl Grey Caviar Martini—Quinary's signature drink—for a complete sensory delight.
Location: Ground Floor, 56-58 Hollywood Road, Central, Hong Kong
Phone: +852 2851 3223
Website | Facebook
Around many corners, you'll find signatures of Hong Kong's British colonial past, yet the city has very few brewpubs. In Central, this brewery is both the exception and exceptional. Tipping Point's in-house brews bring fresh, in-season ingredients to your pint.
Tipping Point also serves standard pub fare and bottles of the craft brew staples from the US and UK.
Location: 79 Wyndham Street, Central, Hong Kong
Phone: +852 2868 2892
Website | Facebook
The tightly packed streets of Lan Kwai Fong are famous for nightlife and often attract rowdy tourists. Skip the Jagerbombs and sticky floors, and head to Stockton for fine cocktails recalling 1890s London.
This hidden bar focuses on cocktails with gin, rum and whisky. Each specialty cocktail on the menu features a story to round out your drinking experience.
Location: 32 Wyndham Street, Central, Hong Kong
Phone: +852 2565 5268
Website | Facebook | Instagram
This teahouse, with its cozy wooden booths and stained glass murals, has become a guidebook staple over the years. Don't miss the dim sum at this Hong Kong institution.
Location: 24-26 Stanley Street, Central, Hong Kong
Phone: +852 2523 5464
Make sure to take a break from eating and drinking to catch iconic views of Hong Kong and Kowloon from the top of "The Peak."
The tram runs regularly from 7 a.m. to midnight. If you want to beat the crowds, take your journey in the morning. For sunset or night views, be prepared to wait, as lines for the tram can get long.
If you want a view from the top of the Peak Tower, make sure to get a ticket for Sky Terrace 428. Alternatively, grabbing a drink from one of the restaurants in the building will earn you a similar view for a better value.
Kowloon

Make sure your trip includes time in Kowloon, directly across Victoria Harbour from Hong Kong Island. Enjoy a short ferry ride from Central Piers to Kowloon. Walk the tourist-driven Avenue of Stars in the late afternoon or early evening before finding a place to watch Hong Kong's nightly light and sound performance, "A Symphony of Lights." Every night at 8 p.m. 40 buildings around the harbor light up in a spectacular 13-minute display.
At 30 floors up, Aqua provides a great height to catch the light show over a glass of champagne or cocktails.
Location: 29+30F Tsim Sha Tsui, Hong Kong, One Peking, 1 Peking Road Shopping Arcade
Phone: +852 3427 2288
Website // Facebook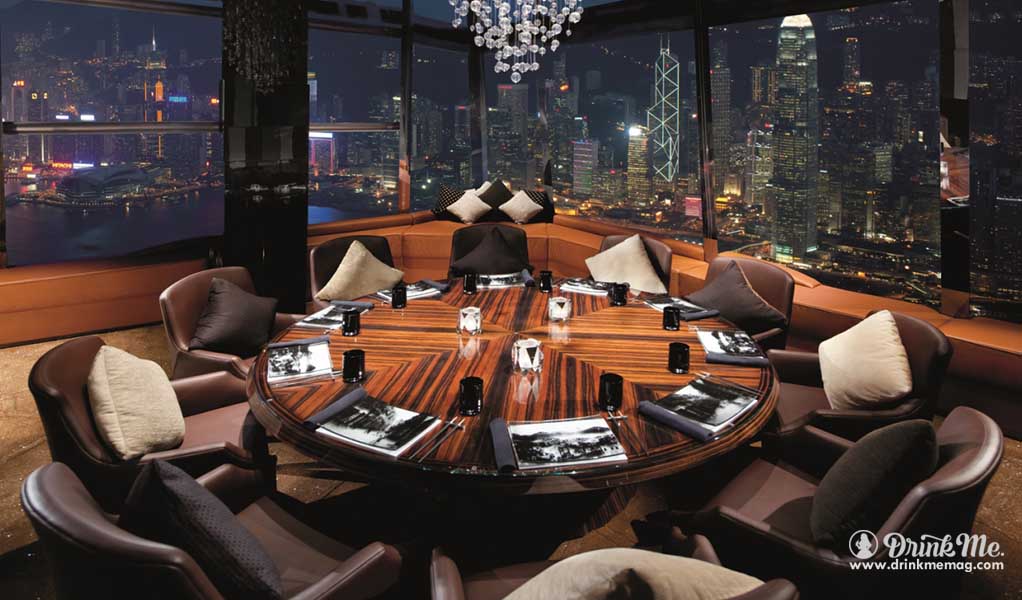 If you're looking to get higher, visit Ozone in The Ritz Carlton just a short walk away. Located on the 118th floor, Ozone boasts the title of world's highest bar. The atmosphere is posh, so be prepared to look classy, as the dress code is enforced.
All images were taken by Zygmunt Spray.