On the sunny morning of September 27, 1914, Frans De Moor found himself staring down a German death squad in the medieval town of Aalst, Belgium. Frans and 29 other civilians were to lose their lives in a gruesome theatrical stunt to terrorize the population. Frans' heinous crime? Refusing to hand over his copper still to the invaders who desired the metal for ammunition casings. He had only opened his distillery four years prior after lifetime of dreaming and saving, establishing a small distillery where he would make the national spirit of Belgium: genever.
In the 1880's Frans owned a barbershop and pub in Aalst, a place where you could get your hair cut while grabbing a beer in a more masculine incarnation of the Beauty Bar trend of the late 90's. His place lay in the shadow of one of the great genever distilleries in Aalst, the Lyon D'Or. Gazing at the great distillery in front of him, Frans worked day and night, squirrelling money away and dreaming of one day opening his own distillery. In 1905, Frans sold the business in order to apprentice with the Master Distiller at the Lyon D'Or. His spirit of choice was genever, the national spirit of the Lowland Countries, both Holland and Belgium.
Genever (pronounced with a long e like the city Geneva) has its roots in medieval Flanders where alchemists experimented combining the two of their favorite cure-alls: juniper and distillates. By the Renaissance, genever production shifted to distilling malt wine (essentially highly fermented beer), making use of the abundant barley and other grains grown in the nearby fields and imbuing the spirit with its signature malty characteristics.
During the Thirty Years' War, the British became hooked on genever. After watching their allies down genever before charging into battle, the soldiers coined the phrase "Dutch Courage" a saying still used today to denote behavior that combines drunken belligerence with an inflated sense of security. However, genever being from distilled malt wine is expensive to make. Local distillers in London began to use neutral grain alcohol, continuing to flavor with juniper and other herbs thereby giving birth to London Dry Gin, the type of gin used in most gin and tonics today. In the 16th Century, Dutch settlers in New Amsterdam first introduced genever to the New World where it remained a popular spirit until the end of the 19th Century, evidenced by its presence in Jerry Thomas' The Bon Vivants Companion under the moniker "Holland Gin."
Genever's fall from grace remains obscure. The cocktail historian, David Wondrich gives one possibility in his book Imbibe!: "It was with the rise of the Dry Martini, in the 1890's, that Dutch gin [genever] began disappearing from the bartenders armory. Unfortunately, it mixes poorly with dry vermouth, and that would prove to be the death of it as a dominant spirit in America." It seems odd that genever was undone by its inability to mix with dry vermouth. As we all know, the martini gave way to the dry martini, lessening the amount of vermouth until most martini drinkers were following the advice of Winston Churchill—only calling for vermouth to be present in the room while having a martini, with none in the glass. Even today, except in the most fastidious of bars, dry vermouth often exists in a turned, sour bottle of wine living under a cake of dust in a dark corner. Perhaps it's a fitting punishment for depriving us of such a rich and storied spirit as genever.
In the Low Countries genever continued to thrive. To put this boom into perspective, Veronique Van Acker-Beittel in her book Genever: 500 Years of History in a Bottle, states that in 1881 not long before Frans De Moor opened his bar and barbershop, there were 392 distilleries in the Netherlands distilling capital of Schiedam alone.
Like so many bartenders, Frans De Moor had dreams. But unlike "John at the bar" in Billy Joel's "Piano Man," (who is quick with a joke or to light up your smoke) who dreams of being a movie star, most of us bartenders have dreams that involve the business we work in. Whether it's opening up your own bar or producing your own whiskey (or even the humble goal of one day earning your living writing about the spirits you love), it's natural for our dreams to be in the industry we work in. These dreams are the carrot that keeps us rushing forward. Patrick Van Schandevijl, the current Master Distiller at the Stokerij De Moor, remarks when thinking of his wife's great grandfather and his ambitions to open a distillery: "You have to dream, to focus on something. If you're not dreaming you're dead." It must have taken a huge leap of faith for Frans, to close his bar and barbershop to go apprentice at the age of 40. Maybe even more so to leave that apprenticeship and shell out his life savings to buy three houses on a quiet little street in Aalst –one to live in, one to distill in and one to sell his genever. But there he was at 45 with his own distillery, his very own version of his country's spirit in a bottle. Things were going well for Frans and he was developing a reputation as a quality artisanal distiller.
In one of history's most fateful moments, a driver on a street in Sarajevo made a wrong turn. When he braked and tried to reverse, the car stalled. The car was carrying Franz Ferdinand, the Archduke of the Austrian-Hungarian Empire, and by some especially cruel twist of fate, the stall occurred a few meters in front of Gavrilo Princip of the Serbian separatist group, The Black Hand. With their assassination plot foiled only hours earlier, Gavrilo was alone and destitute with most of the other members of the Black Hand incarcerated. But fate put the car carrying the archduke right in front of him. Gavrilo fired two shots, and the world would never be the same.
Books have been written about how the world came to find itself at war in 1914. Let it suffice to say that a system of alliances combined with rampant nationalism and militarism resulted in the most brutal war the world had ever seen. Belgium did its best to steer clear of the madness and remain neutral. Ironically, it was this dedication to neutrality that forced them into the war. Eyeing the string of strong fortifications on the French border compared with the non-militarized borders around neutral Belgium, Germany initiated the Schlieffen Plan –calling for an invasion of France through Belgium, hoping to be marching into Paris before the French could fortify the border.
Germany invaded Belgium on August 4, 1914. In hopes of frightening the populace into submission, a campaign of terror was unleashed upon the civilian population, resulting in what came to be called "The Rape of Belgium." Stories of looting, rape and murder circulated through the countryside in the wake of atrocities.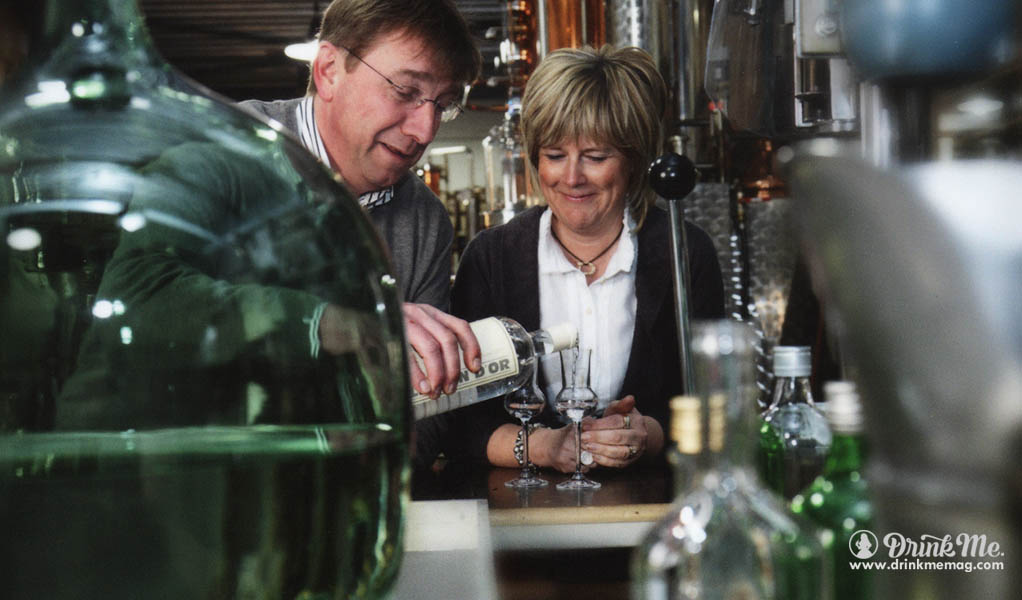 Frans De Moor must have heard these stories, including tales of looters seizing copper stills, melting down the copper to use as ammunition casings. In order to preserve his dream and also not to help arm the occupying forces terrorizing his homeland, Frans opted to hide his still. In a way that recalls the famous Nazi interrogation scene in Inglourious Basterds, Frans broke his still into pieces and hid them in barns under bales of hay in farms of relatives in the countryside.
In the morning of September 27, 1914 the German forces arrived in Aalst. They ransacked every building in their path, including the Stokerij De Moor, Frans' house and store. Bombarded by resistance artillery, German soldiers began pulling victims from their homes to act as human shields. When the soldiers found Frans and his wife Anna huddled in the cellar, they questioned him about his still. Refusing to give up the locations where he hid the pieces, he was beaten with rifle butts. A struggling Frans De Moor was marched to a bridge across from which the Belgian resistance was encamped. In a scene that recalls Goya's The Third of May 1808, Frans and 29 other uncooperative residents were killed by a firing squad. For a coup de grace, his dead body was bayonetted to accentuate the brutality. Afterward they set fire to the town, razing all the buildings near the embankment including Frans' three little houses. Frans' son Albert was amongst the company of Belgian resistance fighters to first come across the ruins of the massacre, finding his father dead and his mother frozen in shock.
The German soldiers surely thought their brutality would've intimidated the family into submission. They couldn't have been more wrong. Albert continued to fight with the resistance until the end of the war. When he returned in 1919, he and his mother took to rebuilding the Stokerij De Moor. Frans' tragic death steeled their will and determination to keep his dream alive. Despite two stoppages during the Great Wars, the distillery remained in constant production all the way until the present day.
However, German invaders weren't the only problem to confront Belgian genever. While teetotalers in the U.S. were about to pass the 18th Amendment, the Belgians were about to delve into their own noble experiment. In 1919 the Vandervelde Law was passed, purportedly to curb excessive drinking by banning the consumption of distilled spirits in public places. Taxes were quadrupled and a 2-liter minimum was placed on sales of distillates. The resultant price hike made genever unaffordable to the general populace and demand collapsed. However, the prohibition laws did have at least one positive effect; with beer being exempted from the ban, the law was the driving force in the development of Belgian beer. While we were all popping cans of watered down fizz, Belgium was taking brewing to another level that would eventually influence brewers all around the world.
Things changed with the repeal of the Vandervelde Law in 1985, and genever began to return to its former prominence as the national spirit of Belgium. Bars sprung up that specialized in the spirit, some boasting selections of over 400 different brands exhibiting the diversity of genever. In 2008, the European Union granted genever status as a "Protected Designation of Origin" (similar to French AOC status) recognizing 10 distinct variations based on differences in style and region. As with gin, the botanical blend is one of the causes of variation; however, genever shows its grain more on the palate. It goes through only two distillations and is composed partly by distilling malt wine, a liquid made from malted barley and other grains, which is barrel aged, condensing its flavor and imbuing it with its distinct malty character.
There are two predominant styles of genever both in Belgium and in Holland – Old (Oude) Genever and Young (Jounge) Genever. Old genever must have less than 20 grams of sugar per liter and have between 15% and 50% malt wine in the mash. This results in a spirit with a richer mouth-feel and a unique nose that is reminiscent of wheat berries. Young genever is a softer, drier spirit with no more than 15% malt wine and less than 10 grams of sugar per liter. This style originally emerged in the 19th century to compensate for grain shortages, but its smooth character drives its popularity today. Genever is often drank in the kopstootje ritual; translating to "little head-butt," the small tulip shaped genever glass is filled to the brim while still on the bar, beckoning the participant to lean over and slurp the first sip without touching the glass for fear of spillage. Afterward the shot is downed, followed by a draft of Belgian beer.
Veronique Van Acker-Beittel, a native of Ghent in East Flanders, first came to the U.S. as a young student to intern in the marketing department at Sara Lee. She's took a liking to things on this side of the pond, remaining here ever since. But she missed the genever; it was nowhere to be found in this country.
Every time she returned home, she would smuggle genever back in her suitcase. Her wedding brought her American friends to Ghent where they caught the genever bug. Afterward whenever she returned from trips to see her family, her friends quickly seized her suitcase contraband. Frustrated, she decided it was time to bring the spirit over.
In 2010, Veronique began importing genever through her company Flemish Lion. She has a nationalist flair when speaking of her native country's spirit. "People don't know that genever is Belgian. It's frustrating. It's like how it should be Belgian fries, not French fries." She partially attributes this to naiveté in regards to geography, citing in her book Genever: 500 Years in a Bottle, "Pre-1830 [Belgium] and [the Netherlands] were collectively called Der Nederlanden ("the Low Countries") and both populations mostly spoke Dutch. From descriptions like "Dutch manuscript" you are unable to determine whether it was produced by the Dutch or the Flemish." It's also worth noting that the Netherlands were able to remain neutral in World War I, so their stills were never seized and melted, their populations not nearly as decimated.
On her trips to Belgium, Veronique found herself becoming more and more attached to the Stokerij De Moor. At first it was because of the flavor, but she became enamored with its story. As a woman navigating the minefield that is the importing business, often by herself with little outside assistance (even to the point of designing the first Diep 9 label herself on Power Point), Veronique finds inspiration in the story of the resilient Anna De Moor who took the reins of the business in the wake of her husbands tragic death.
When asked about the future of genever, Veronique believes its popularity will spread once it finds its place in the cocktail world. Moscow mules, mai tais, mint juleps…these all call for specific sprits. The popularity of the cocktails helped to familiarize the public with the spirits they contained. When Veronique asked my opinion as a bartender, I told her of Yanni Kehagairis' Clifton Special at Liholiho Yacht Club. It blends the maltiness of young Diep 9 with the faux maltiness of coconut water and toasted coconut syrup, resulting in a flavor that is reminiscent of a piña colada without all the fat and sugar. The popularity of the cocktail has made Liholiho Diep 9's biggest account in California. It's perfect for anyone looking to squeeze a little hair of the dog into his or her hangover cure.
Today Diep 9 is still made by the same family. The current Master Distiller, Patrick Van Schandevijl, is married to the great granddaughter of Frans and Anna. Using local grains and malt wine, Diep 9 is distilled in 52-gallon batches using the classic copper still. It features a blend of 9 botanicals for aromatics: angelica root, carob, cinnamon, coriander, grains of paradise, nutmeg, orange peel, thistle, and juniper. The aromatics are imparted using basket distillation, the practice of hanging a linen sack filled with the botanicals inside the still; when the vapor passes through the basket it absorbs the flavors before reconstituting itself. In some ways, genever's relationship to gin mirrors tequila's origins in its great uncle mezcal; genever and mezcal represent the old-fashioned, texturally richer incarnations while gin and tequila are cleaner and smoother on the palate. With Diep 9 the rustic element is further accentuated by its bottling; harkening back to the traditions of yesteryear, Diep 9 is still bottled using clay jugs.
In a bout of irony, the copper still Patrick uses was made in Germany. In regards to the tragic past he's surprisingly conciliatory: "You can't do anything about this anymore. It has already happened. The best we can do is to learn about what happened and make sure such things never happen again. Take a sponge and wipe it clean." I'm pessimistic and take the Hegelian adage as gospel: "We learn from history that we learn nothing from history." I hope Patrick is right and I'm wrong. It's always better to hope.
Photo credit at the bottom of the piece to Steven Van Gucht