The sun hangs low and heavy in the Chiang Mai sky, painting streaks of ochre and burnt gold across the surface of the Mae Nam Ping River and turning the geometry of the urban skyline into something more pliable—something that could, and perhaps would, melt affably into the banks of the supplicating river. From a rather enviable position perched atop the lovely rooftop bar of the Sala Lanna on Charoenrat Road I watch the sun sink lower still, an icy cocktail of Thai whisky muddled with fresh basil leaves and Kaffir lime topped with soda melting deliciously in my palm and turning an enchanting bronze backlit by the sky.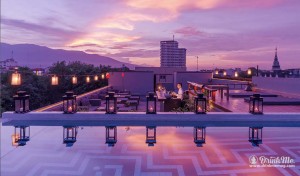 With temperatures hovering in the steamy forties earlier today, there's not a place in Chiang Mai I'd rather be than with one foot dangling in the infinity pool and a craft cocktail in hand looking out over the city as the evening lights twinkle to life one by one.
Though the Mediterranean-leaning tapas, international wine list, and martinis in flavors like blood orange and lemongrass lychee hint at this bar being in the trendy category, the ultra warm and welcoming staff keep the Sala Lanna safely out of "too cool for school" territory. It's simply a beautiful, ambient space with a view that will keep you around for a second Thai Sabai (the Thai basil, whiskey, soda concoction) or caipiroska.
If you'd like something to complement the perfectly executed prawn appetizer served over a fresh avocado and cherry tomato salsa with a white wine dill pesto, Sala Lanna offers some thoughtfully-chosen Italian and Chilean wines and even a nice Prosecco, which you'll particularly appreciate if you've been in Thailand for a while. In a city that's as rich in culture and gastronomy as it is steeped in 700 years of history, we nominate the rooftop bar at the Sala Lanna as the most ambient spot in Chiang Mai to savor a sundowner.